Download Detailed Program Friday – Sunday (Note: Refresh the web page to get the latest version!)
Thursday, September 26, 2019
Meetings
Location: Helsinki University Hospital campus (Address: Haartmaninkatu 4 and Haartmaninkatu 8), buildings "Terkko Health Hub" (14 on map) and "Biomedicum 1" (21 on map).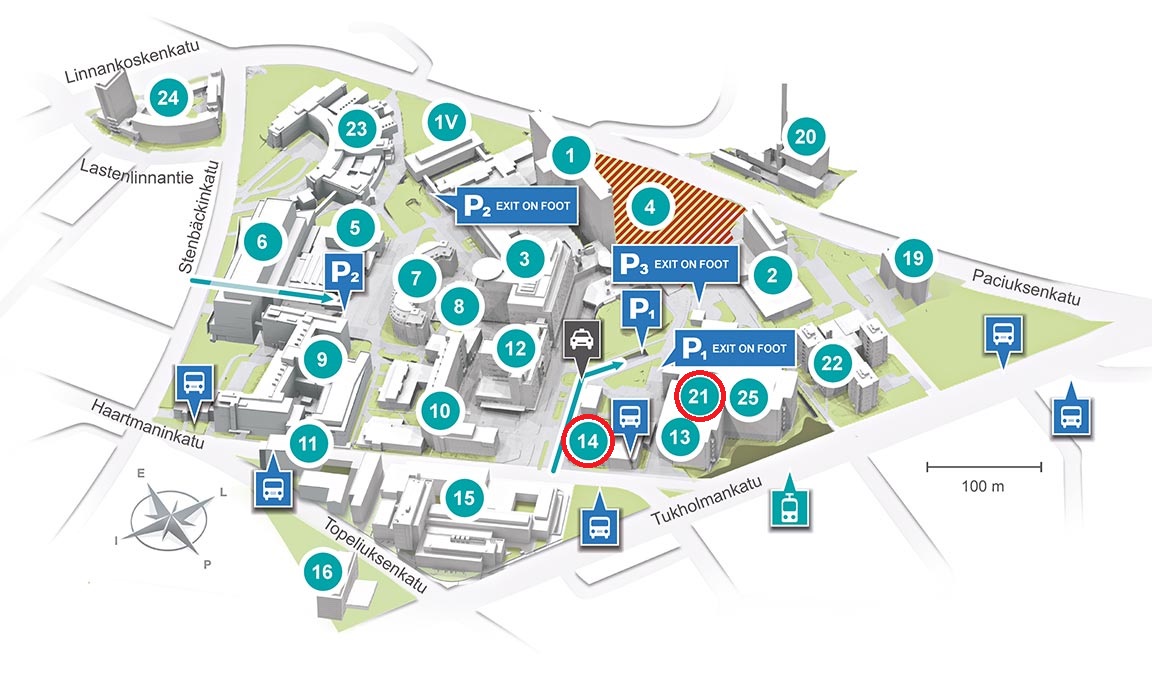 Access: Take tram number 4 or one of several bus lines from city center. Duration max 30 min including waiting time.
Travel planner to find public transport to and from the venues:
hsl.fi/en or googlemaps.com
10:00 – 15:00 IAEA-TECDOC Revision Working Group
Chair: Hiroaki Kumada
Address: Haartmaninkatu 4 ​(https://goo.gl/maps/Fr4FU2uXnYMeEwtC7)
Building: Terkko Health Hub (https://terkko.fi/)
Ground floor meeting room "Stem".
14:00 – 16:00 Radiobiology Working Group
Chair: Mandy Schwint
Address: Haartmaninkatu 8 (https://goo.gl/maps/Yd6qHBRxB7RsMvdr6)
Building: Biomedicum 1, 6th floor, Faculty Club
16:00 Executive Board and Board of Councillors meeting
Chair: Ignacio Porras
Haartmaninkatu 8 (https://goo.gl/maps/Yd6qHBRxB7RsMvdr6)
Building: Biomedicum 1, 6th floor, Faculty Club
Main Event
17:30 – Registration open at Helsinki City Hall
Address: Pohjoisesplanadi 11-13 (https://www.myhelsinki.fi/en/see-and-do/sights/helsinki-city-hall)
18:00 – 19:00 Get Together at Helsinki City Hall
Friday, September 27, 2019
8:00 Registration open at Pörssi
Address: Fabianinkatu 14 (https://www.restaurantporssi.fi/en/contact/)
8:30 Welcome messages at Pörssi
9:00 – 17:00 Conference sessions at Pörssi

18:00 – 20:00 Visit to Helsinki University Hospital BNCT facility
Access: Bus transport from Pörssi at 17:30 and 18:30)
Saturday, September 28, 2019
8:30 Registration open at Pörssi
9:00 – 16:00 Conference sessions at Pörssi
19:00 – 23:00 Banquet dinner at Plaza Restaurant
Address: Mikonkatu 23 (https://www.raflaamo.fi/en/helsinki/plaza-restaurant)
Sunday, September 29, 2019
9:00 – 14:00 Conference sessions at Pörssi
14:00 – 15:00 Closing words at Pörssi